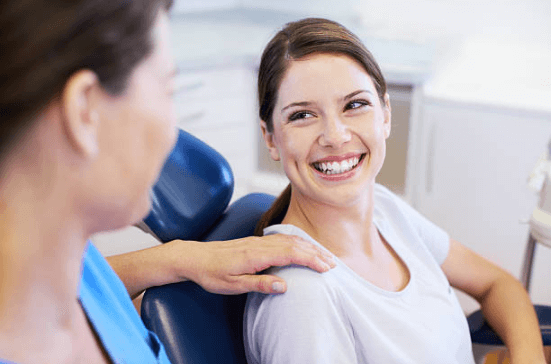 For some, many patients don't go to the dentist because they have feelings of helplessness, loss of control, dental fear, or dental anxiety about visiting the dentist. This is unfortunate because routine dental care is essential to maintain good oral health and a healthy lifestyle. The good news is that dentists encounter people with dental anxiety in their offices on a daily basis. At Sloan Creek Dental, we believe in providing an attentive, affordable, and compassionate experience for all of our patients. Our team uses the latest advances in oral health care to help you maintain healthy teeth and gums for life.
How dental anxiety affects your health
Being afraid of the dentist happens to 9% to 15% of Americans, so you're not alone. However, going to the dentist, receiving preventive care, and addressing problems are critical to your dental and overall health. By maintaining good dental health, you could reduce your risk of potentially life-threatening illnesses such as heart disease and stroke and even prolong your life by decreasing the risk of heart disease and diabetes. Letting your dental phobia prevent you from going to the dentist or receiving recommended treatments can lead to negative results such as:
Stained or discolored teeth
Bad breath
Damaged teeth such as chipped or cracked teeth
Gum Disease
Tooth decay
Tooth Loss

Other

dental problems

going undetected such as TMJ, sleep apnea, and even oral cancer
Common dental fears & anxiety
It's understandable you might feel apprehensive about your next dental appointment, and you're not alone. Many people may experience dental fear, and it's normal. Here are some common reasons that patients experience when it comes to seeing the dentist.
Fear of needles
Bad experience
Fear of pain
Lack of control
Embarrassment about bad teeth
Fear of dental drill
We understand that the thought of going to the dentist can make you uncomfortable. This is why we want you to know we are here for you, and there are things you can do to feel confident about your dental visit. Here are 7 tips to help you feel more confident about seeing your local dentist.
Tip 1: Pick a Dentist who you feel comfortable with
If you're anxious about visiting the dentist, we recommend you to find a dentist who is a good listener and has your best interest at heart. Someone who understands your situation, and is able to empathize with you so you won't feel stressed or anxious.  If you're afraid of going to the dentist, we know making the first step is very important, and a dentist who understands and is familiar with these anxieties genuinely cares about your health.  
When looking for a new dental office, ask your family and friends for a recommendation for a caring dentist. You can also search online for a dentist and read their reviews to see whether they had a wonderful experience and or whether they felt comfortable with them. A dentist with many positive reviews is more likely to be professional than a dentist that has few or no reviews.
Tip 2: Be honest about your dental phobia
Our dental practice can help patients with extreme fear of dental procedures to get over their dental fears and learn to have dental treatment in a manner that feels calm and safe. Sloan Creek Dental is committed to your comfort and ensuring that your experience at our office is a positive one. We'll listen to your concerns and preferences and make every effort to exceed your expectations.
Tip 3: Ask questions about the procedure
Communication is the foundation of any good relationship. Which is why prior to any procedure, Dr. Feng will go over your treatment plan so you're aware of the dental work that will be done. If you have specific questions about the procedure or have an unpleasant experience with dental pain, mention it to Dr. Feng, and she'll be happy to address your concerns.
Tip 4: Bring someone with You
Bringing someone with you to a dentist appointment, whether a friend or family member, can provide an extra layer of support and assurance. By bringing in someone who isn't afraid of dentists, that person can speak for you in times you can't, increasing your control of the situation. 
Tip 5: It's ok to take a break
We make sure that you are comfortable and relaxed during your entire dental treatment. If you feel you need a break, let us know, and we will give you some time to relax. During this time, try taking deep breaths and other relaxation techniques to relax.
Tip 6: Take precautions to reduce discomfort
Afraid of dental injections or have a fear of pain? Talk to your dentist about whether you can have a topical anesthetic to relieve the pain before receiving shots. Nitrous oxide (laughing gas), oral sedatives, or other options may be available. For those with sensitive gag reflexes or fear of being choked, the x-rays may be your concern. Talk to your dentist about the possibility of panoramic x-rays, which are non-invasive. There are many options available to you that could get the inconvenience out of the process. Be open with your dentist about how both of you can get the dentist visit going.
Tip 7: Take good care of your teeth
This is the best tip for overcoming dental phobia.  With proper oral hygiene, you can be proactive in protecting your teeth from unwanted dental procedures. Brush well, eat right, floss daily, visit the dentist for regular checkups, and you'll be on the right path to excellent oral hygiene. 
Tip 8: Consider Sedation Dentistry
We provide 3 sedation dentistry options to help people relax in the dental chair while getting their dental care. Whether you're facing a common procedure or a more complex procedure like implant placement or tooth extraction, we can work with you to find the right treatment that fits within your comfort level. We offer nitrous oxide (laughing gas), oral sedation, and IV sedation (local anesthetic). With either of these methods, your dental anxiety level will decrease, you will feel calm and comfortable.
Tips to care for your oral health
Here are some ways to prevent and care for your teeth.
Maintaining a regular dental hygiene routine will help you avoid lengthy and painful procedures down the road.
Don't put off your dental treatment if your dental concern is severe.

Brush properly and take your time when brushing in a gentle circular manner to remove plaque and tartar. 
Sloan Creek Dental is here for you
Rather than dreading your dental appointment and leaving your mouth exposed to conditions, you cannot identify, wouldn't it be better if you went to a dentist you felt comfortable with? At Sloan Creek Dental, your dental experience will be a comfortable, a positive experience as your comfort is our priority. At your next dental visit, we can help identify problems in the mouth that would not have been detected, understand how you can keep your mouth healthy, and prevent issues that can cause anxiety.