There are multiple reasons that can lead to tooth loss. It can result from an accident or injury, general ill health, unhealthy habits like smoking excessively, gum disease, severe tooth decay, tooth extraction, and age-related factors.  Although it can be disheartening, tooth loss should not stop you from enjoying your favorite foods, or smiling confidently.  No matter the reason why you lost the tooth, it's important to know that the sooner you see a dentist in Fairview, the greater the chance that we can save your tooth.  In the event that the tooth cannot be saved, there are several tooth replacement options to replace a missing tooth, and to bring that smile back.
Why should I replace the tooth that I lost?
When you choose not to replace a missing or a extracted tooth, there are many negative consequences that may occur. With a missing tooth, eating can be difficult, there is a noticeable gap forming in your smile, allows any adjacent teeth to move out of position, and most importantly, your jawbone density will decrease over time.  Bone loss happens when the jawbone no longer receives stimuli from the tooth root, and osteoclast will begin to breakdown the jawbone.  To prevent this, the best viable option for your oral health is to proceed with dental implants to prevent future dental problems from occurring.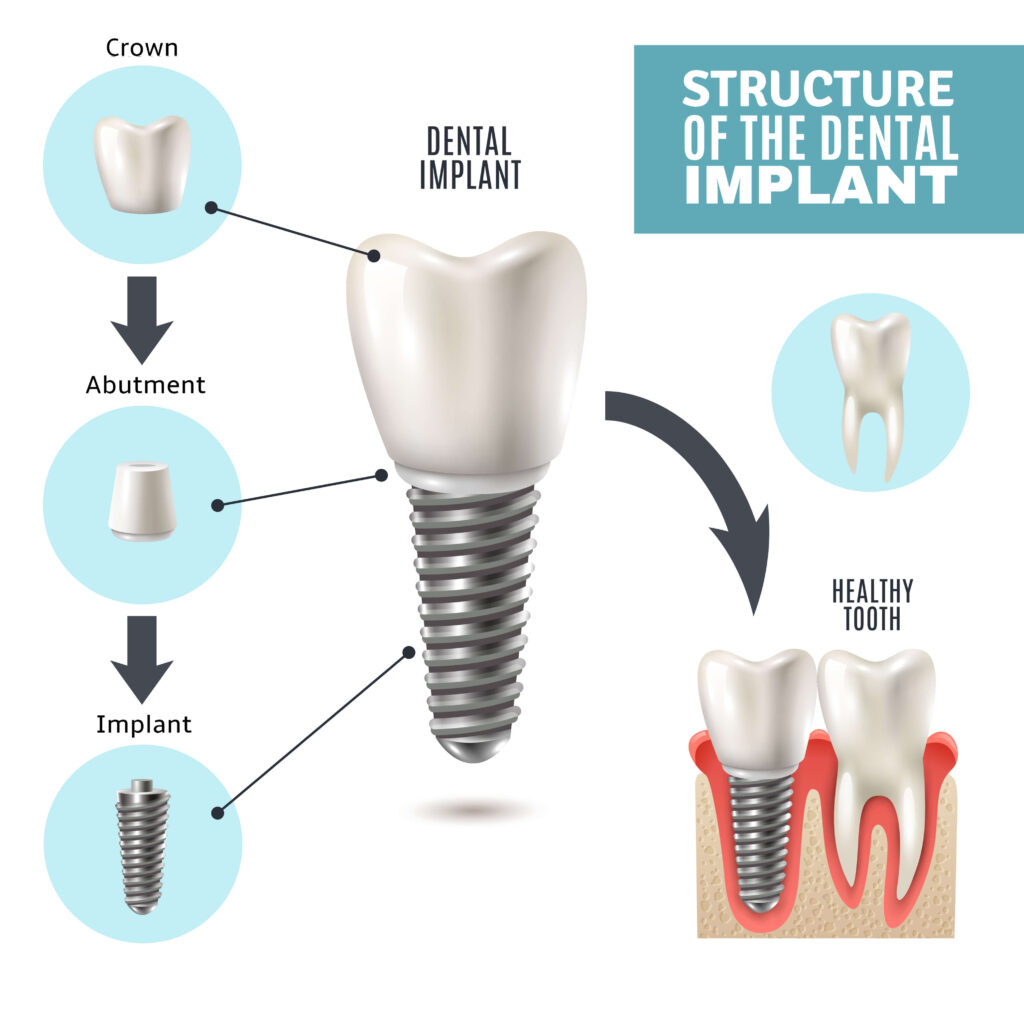 When you visit your Fairview dentist, the best and most common option to tooth replacement is dental implants.  Dental implants is a replacement tooth root that fuses to the bone and functions like a natural tooth root. They are durable, reliable, and does not harm healthy adjacent teeth. The perfect solution if you need to replace a single tooth, or multiple teeth, in different areas. For dental implants to work, it requires a healthy jawbone. If your jawbone has either decay due to gum disease or is not strong enough to support an implant, then a surgical procedure like a bone graft is needed to augment the bone.
The process of placing your dental implants takes more than one appointment.  It begins by replacing your natural tooth root with metal screws (implant posts) into the jaw bone, which will eventually become the anchor for your artificial tooth. You will need to wait about three to four months so that the implant becomes securely fused to your jawbone. Once the area is healed completed and the implant is ready, a dental crown is placed on top and secured.
Benefits of Dental Implants
An implant-supported bridge or implant-supported denture are designed for patients who have lost more than one tooth in a row. Rather than replacing each tooth individually, an implant-supported bridge replaces the missing teeth at either end with dental implants. The existing teeth in the center are not secured using implants.
Benefits of Implant-Supported Bridges
The difference between a tooth supported bridge and dental-implant supported bridge is a tooth-supported bridge fills the space of a missing tooth by cutting down the teeth on either side of the missing tooth, and affixing dental crowns to those teeth to support a false tooth between them.
Benefits of Tooth-Supported Bridges
Traditional dentures are removable at-home dental appliances that resemble real teeth. It is custom-made based on an impression taken of your mouth and sometimes requires a metal clasp to to keep the false teeth in place. A removable partial denture provides an inexpensive and easy solution for individuals with many missing teeth. Depending on the treatment you require, we may recommend a complete denture or a partial denture.
Benefits of a partial denture / denture
A flipper is a removable partial denture that can be used by people who are missing one or more teeth. It is meant to be used temporarily while you wait for a more permanent solution.
Which tooth replacement option is for me?
When it comes to replacing a missing tooth, there are several options to consider. There are dental implant solutions, which are permanently attached replacements that look and feel like natural teeth. There are denture or bridge options that are more affordable. After your initial consultation, we will discuss which treatment plan best fits your needs and budget.
Keeping Your Teeth Where They Belong
It's crucial that you protect the health of your teeth. With proper care like brushing and flossing daily, and seeing your Fairview dentist twice a month for regular cleanings and exams.  This will help you prevent the need for dental treatments to replace missing teeth with dental implants, dental bridge or dentures. If you're considering tooth replacement options, our team of dental specialists will be happy to discuss your individual concerns and potential treatment options.