Becoming a mom is an amazing experience. It is hard work and you put a lot of effort in to making sure your child is happy and healthy. Your smile deserves the same type of care and attention but we sometimes forget about it.  A smile that is taken care of is a happy healthy smile.  
As you balance parenting your children, working, and managing a home, it's important to take care of yourself too. In light of National Women's Health week from May 9th to May 15th, and Mother's Day  on May 9th, we have some tips on how to help all the amazing moms keep their smiles healthy through the various stages of parenting.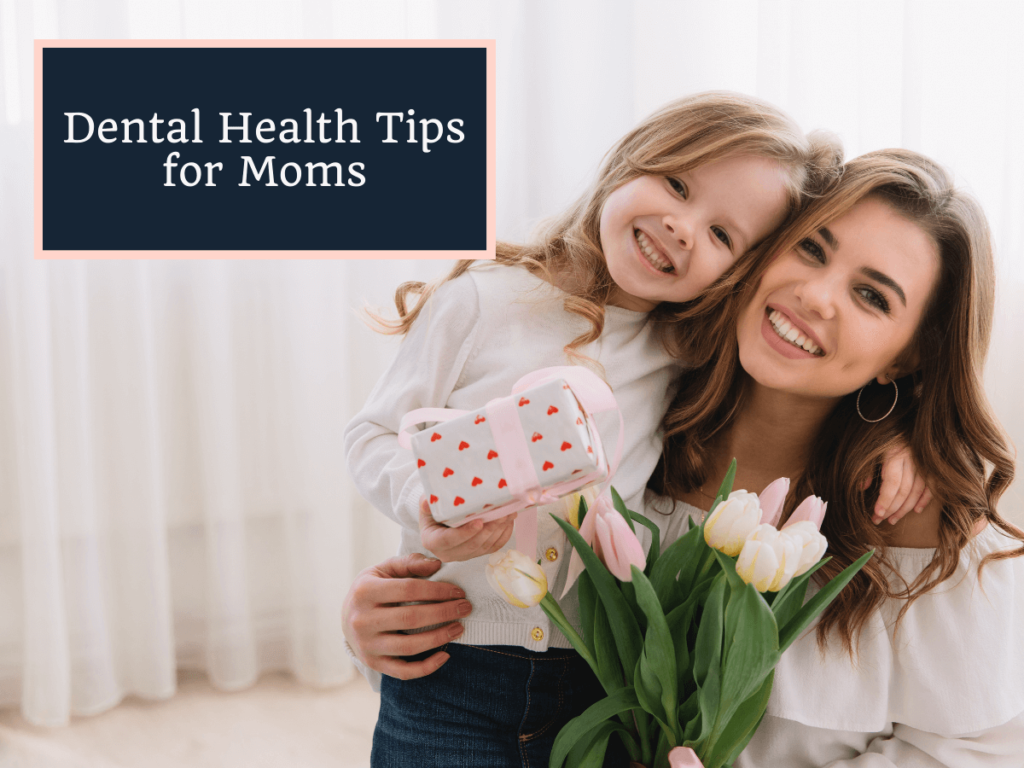 Adopting a child or expecting a baby can be one of the most life-changing events in a woman's life.  And when considering the many things to take care of, sleep may not be the first thing on her mind.  Losing just a few hours of sleep can affect your bone health and bone tissue regeneration, and that has an impact on teeth and gums.  It is common to see women who are pregnant have mild to moderate gum disease so regular dental visits are important and shouldn't be ignored.  
When it comes to minerals, every expectant mother needs to think about Calcium and Magnesium. They are the main minerals in your baby's bones, and they also contribute to the development of both bones and teeth in the baby. Calcium helps your body build and maintain strong, healthy bones. It's also important for many other body functions, such as supporting the body's nerve and muscle function.  Magnesium is also known to reduce issues like headaches, leg cramps, teeth grinding and promote restful sleep. Calcium and Magnesium can also be taken as a supplement, or absorbed through your skin via creams, oils and bath salts. Calcium and magnesium are two of the most important minerals in your body. They're found naturally in many foods—like dairy foods, leafy green vegetables, seafood, and grains—and they can be taken as supplements.
For Moms with Older children
Mothers of young children know how time seems to fly by. Between school, activities, and appointments, the clock ticks faster than you can blink. With more to manage for themselves, mothers may put their health needs aside and delay things like regular checkups with the doctor and dentist.  Even with the busy schedule, we strongly encourage moms to take some time for themselves to maintain good oral health.  
So why not combine family, fun, and healthy habits together!  We know that younger kids often have a hard time making it past two minutes for brushing and flossing. Oral-B and Disney's Timer App will let you set aside family time for teeth brushing and flossing. The app is a great way to get your kids excited about brushing their teeth and your child can earn items, badges, and rewards while learning to take great care of their smile.  This also helps remind you that your teeth and your oral hygiene routine is just as important as your kids.
For "Experienced" Moms & Grandmothers:
As women get older, they face changes in their hormones and in other factors that increase the risk of bone loss and gum disease. A healthy diet and lifestyle is important for your smile. From stress to sleep, everything you do will affect the state of your teeth. Eating a healthy diet rich in calcium and magnesium is still important, as well as exercising and keeping stress to a minimum may help optimize the aging process and overall wellness. But with age, women begin to lose bone mass. Bone loss often begins in the jaw, which means that senior women may have dentures, partials or implants that need more attention than say their natural teeth. That's why it's important for women to see their dentist regularly for checkups.
 Eliminate stress – Studies show that reducing stress significantly improves oral health. Stress can lead to teeth grinding and clenching, as well as promote cavities, canker sores, and cold sores.  Yoga and mediation can be useful tactics to reduce stress.
Brush and Floss Properly – I know we've heard it over and over again. But good oral hygiene can help you live a healthier, happier life. By brushing gently for two minutes each time and flossing afterwards, it will help eliminate cavities that build up in between the teeth as well as gingivitis.  
Make time for dental appointments – The American Dental Association recommends regular visits to the dentist every six months. This is the most important tip as this is the most effective preventative measure just like brushing and flossing.  With regular visits to the dentist with you and your family, it may prevent future dental problems in the future, and it places an emphasis on the importance of dental hygiene for your kids.
Are you preparing a healthy snack for your children? Remember to take care of yourself! Choose from the following mouth-watering options:
Crisp pears, apples, carrots, and celery can help freshen breath and remove cavity-causing plaque from teeth.
Calcium-rich foods like cheese and low-sugar yogurt help to protect and strengthen tooth enamel.
Peanuts are high in vitamin D, which aids calcium absorption in the body.
Dark chocolate with at least 70% cocoa content is high in antioxidants that can help prevent oral diseases, is easier to clean off your teeth than other candies, and contains less sugar than milk or white chocolate! With these healthier options, your Mother's Day present may be beneficial to your smile.
KEEP YOUR ORAL HEALTH ROUTINE ON YOUR TO-DO LIST.
It's tempting to skip your oral hygiene routine when you're busy and tired from caring for others. Brush twice a day for two minutes each time with fluoride toothpaste and floss once a day. Having a good oral health routine can help you avoid dental problems, saving you time (and money) in the long run.
Make a note on your calendar to replace your toothbrush or toothbrush head every three months — or sooner if the bristles appear to be frayed. A new toothbrush will increase the effectiveness of your brushing time by removing more of the plaque that causes cavities.
Have more Dental questions?
If you have any questions at all, or would just like to schedule an appointment with a member of our staff, please don't hesitate to contact us at (972) 468-1440 or contact our office by leaving us a message. And here's wishing a Happy Mother's Day to our many wonderful patients!